Ferrari Challenge is a game where Ferrari themselves have had some imputing into the game idea, plan, and vehicles used within.
50 different expertly-modelled Ferraris are available to use, along with the full complement of Ferrari Challenge series tracks, balanced handling, lifelike opponent and a comprehensive custom vinyl editor with vehicle customisation and handling preference changes.
Despite System 3's continual claims on all their literature, packaging, websites, interviews, etc. of "50 on disc Ferrari's" No one has ever found more than 22 on the disc! Weird eh?
The publisher of the game is SYSTEM 3 ARCADE SOFTWARE along with the game's developer "Eutechnyx"
The game has been rated a 3+ rating by Pegi which makes the franchise wide, and available for a almost anyone to play.
Some features of the game include the following...
• Wii Wheel Control Compatibility
• Scalable handling system. Gives users a customised simulation interface
• 16 Different Ferrari Designed Tracks
• Gear Changing and Engine Rev SFX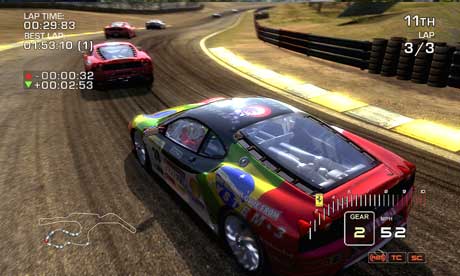 My Opinion:
I have had this game since 2008/09 and have been playing the game fairly a lot. The game has a wide variety of different vehicles and courses to unlock and play on with your own customised and tuned Ferrari which you can make however you want in the 'Customise' section of the game.
The whole aim of the game is to race your way though all the Grand Prix races and gain your way to victory. The game varies between different tracks in GP mode but if you just want to play freely there is also a free play area where you can choose your track and race/time trial on it however you may want to.
The game also includes a Time Trials feature as do other racing games, where you can test your racing skills to the max by trying to beat your times on all of the Ferrari Challenge Circuits.
The game also has different settings in which you can choose wether you want different 'help settings' on such as 'Auto Turn' which is a guide that helps you get the right lines when racing on the circuit and is what helps stop you from spinning off the track and crashing your vehicle.
Overall I would rate this game an 8/10 because the game itself has a really interesting concept and really gets you in a good gaming mood, but the downside for me is that the graphic quality is not the best that it could be so that is what lets the game down most for me, but overall, a great game to purchase.
2 different game cover designs: