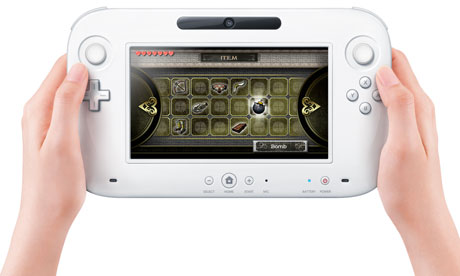 Targeting the untapped potential of casual gaming masses made the Wii the best selling home console in Nintendo's decorated history. In the process, core gamers shifted attentions away from the Japanese giant - but Nintendo wants them back. Or, at least, we think it does.
Wii U's road to reality has been long and baffling, with mixed messaging and occasionally bizarre press conferences. At times we've wondered whether even Nintendo knows who its next-generation games console is aimed at.
The machine is the firm's long overdue debut in the HD era - but that's not its main selling point. Wii U's tablet-esque touch screen controller is said to allow for innovative "asymmetrical gameplay" and portable Mass Effect 3 sessions from the solitary comfort of your toilet.
By focusing its console around the GamePad, Nintendo's gambling that it can form a new market position, half way between the casual world of iPad gaming and established core titles such as Call of Duty: Black Ops 2, FIFA 13 and Assassin's Creed 3 - all of which are available for Wii U at launch.
Crucially however, Wii U isn't all about games: for the first time Nintendo's presenting a dedicated online offering with its new console, with features surrounding entertainment services such as Netflix and LoveFilm.
The Wii's legacy is how it succeeded in expanding the audience that plays games. By striving to maintain a deep relationship with this casual market while reengaging with the core, Wii U faces a unique and puzzling challenge.
Can Nintendo revolutionise gaming twice in a decade? Here's our launch verdict.
Wii U boxed contents
Basics:
1 x Wii U console
1 x Wii U GamePad
1 x AC adapter
1 x GamePad charging AC adapter
1 x HDMI cable
1 x Wii sensor bar (Europe and US only)
Premium model extras:
1 x Wii U GamePad charger
1 x Wii U GamePad stand
1 x Wii U console stand feet
1 x Free copy of Nintendo Land (Europe and US only)
Wii U is available in two models; the £250 ($300 USD / $350 AUS) Basic version and the £300 ($350 USD / $430 AUS) Premium model. The Basic console comes in white and carries 8GB of storage, of which about 3GB is reserved for the player.
Meanwhile the Premium version carries 32GB of storage, comes in black, and bundles in a GamePad charger, a GamePad stand, as well as console stand feet. Europe and US versions of the Premium model also come with a free copy of Nintendo Land, as well as an original Wii sensor bar.
The minimalist design of the console itself feels like a continuation of the original Wii, with a glossy finish, large disc slot and extra ports hidden behind a discrete chamber on the face of the console.
As is the norm for most Nintendo consoles, the Wii U's plastic finish feels cheaper than it looks and is prone to fingerprint smudges, although the system itself is sturdy.
Wii U games run on new 25GB optical discs and while original Wii titles are supported (and can upscale to HD), GameCube discs will not run on the new console.
Given the real lack of memory space in the Basic version - the 3GB available to the player isn't even enough to download NintendoLand - it's difficult to recommend anything other than the Premium model, even though it can look as smudgy as a toddler's iPad.
Up to 2 terabytes of data is supported via external USB hard drives, however the drive must be specifically formatted for Wii U and games cannot run from them.
Even if you're not interested in the bundled game, NintendoLand acts as an excellent demonstration of the console and its GamePad features. Read our full NintendoLand review for more on that.
Hardware unit spec
Unit size:
1.8 inches high, 6.75 inches wide, 10.6 inches deep
Unit weight:
3.5 pounds
USB 2.0 ports:
Four (two hidden at the front, two at the back)
SD card slot:
One hidden at front. Supports AD up to 2GB, and SDHD up to 32GB
Ports:
HDMI 1.4 out, Wii Sensor bar out (compatible with old Wii version), AV Multi Out (compatible with old Wii version), power out.
Internal hardware spec
GPU:
AMD Radeon GPU Clock speed not disclosed but rumoured to be 550 MHz
CPU:
Clock speed not disclosed but thought to be 1.24 GHz - less than half the speed of the PS3 and Xbox 360.
Memory:
2GB, half for the operating system, the other half for games or apps
Video output:
Supports 1080p, 1080i, 720p, 480p and 480i.
Audio output:
Six-channel PCM linear output via HDMI, or analogue out via AV Multi Out port
Network capabilities:
Supports wireless connection (IEEE 802.11b/g/n), USB port can add LAN connector (sold separately)
At the center of the Wii U experience is the GamePad, a wireless tablet-controller hybrid with a plethora of inputs including analogue sticks, motion sensors, shoulder buttons and of course, a touch screen.
At 10.2 inches wide, 5.3 inches tall and 0.9 inches deep, the GamePad is much larger than a traditional controller and feels more akin to a portable console, albeit one that's more concerned with functionality than convenience.
Even though its 6.2-inch, 16:9 screen is larger than anything we're used to, the Wii U GamePad feels comfortable and light, weighing just over a pound.
Your hands wrap perfectly around two nicely-shaped bulges at the far ends of the controller, giving you defined points of grip and allowing your thumbs to rest naturally over the face buttons and analogue sticks.
Like the console itself, the Wii U GamePad feels cheaper than it looks, a necessary trade-off for its sturdy build quality and light weight. It's also begging for your fingerprints (especially the black model), although thankfully the back of the unit adopts a different matte plastic finish.
Wii U ships with a single GamePad - although future Wii U titles will support two GamePads - and they're not currently sold separately.
The main feature of the GamePad is the 854 x 480 (158 ppi) touch screen which, although not quite HD, displays an image comparable to that of most modern televisions, with only the odd pixelation when viewed up close. Anyone who's used a Retina Display iPad will notice the drop in quality, but otherwise Nintendo's done an excellent job with its display.
GamePad unit spec
Unit size:
5.3 inches high, 10.2 inches wide, 0.9 inches deep
Unit weight:
Approximately 500g
Touch-screen size:
6.2 inches (diagonal measurement)
Touch-screen aspect ratio:
16x9
Touch-screen resolution:
854 x 480
Touch-screen stylus:
Housed within pad
Audio:
Two stereo speakers, and 3.5mm headphone jack
Power input:
Two separate proprietary charging ports (at top and bottom)
Wii U GamePad Battery life:
Lithium Ion battery lasts about 3-5 hours (depending on brightness etc)
Wii U GamePad Battery recharge time:
Full recharge in about 2.5 hours
Battery lifespan:
After 500 uses, battery capacity may reduce by about 30%
Wii U GamePad Battery accessibility:
Can recharge when docked in Wii U charger stand, or can be recharged while being used via an AC cable
The touch screen technology is less impressive. Like the Nintendo 3DS, Wii U's GamePad touch screen is based on resistive and not capacitive tech, which means it's less sensitive to touch compared to Apple's devices - and multi-touch isn't supported at all.
This means that while the screen responds fine to the odd jab of a finger, it will require a stylus for any actions requiring more fidelity such as scrolling down a menu or drawing routes on a map. This can be annoying when you're trying to leisurely browse through the console's interface, but the upside is an online service stuffed full of stylus doodles.